Getting natural backlinks to your website is one of the most difficult parts of Search Engine Optimization (SEO). And many consider backlinks to be a strong ranking factor. There is a tool called Help a Reporter Out (HARO) that can help streamline this process. Let's dig into how to get HARO backlinks to improve SEO.
What is HARO?
Let's start by discussing what HARO is. HARO is an acronym for Help a Reporter Out. It is a tool that makes it easy for "sources" (such as website owners and bloggers) to connect with reporters. When a journalist is writing a story they can use HARO to find quotes and information to add to their article. If the author uses your content in the article, they generally include a backlink to your website.
The reporters that use HARO to find sources range greatly. Sometimes it specifies what company they are with. Many times it just says anonymous. The anonymous leads are usually the larger publications. HARO is a good way to get backlinks on popular sites that otherwise would be impossible to get.
Register as a Source
To use HARO, you first need to register as a source. By signing up as a source you'll start to receive emails three times a day with leads. And, you'll be able to respond to the leads using the email address you registered with. Registration is free and required.
Understand What You Want to Be Known For
Before you can start using HARO, you need to have a clear understanding about what you want to be known for. There will likely be several leads that you can respond to. But, you want to stay focused on the relevant leads that are worth your time. You want to focus on leads that relate to your target audience.
Spend the time to create a persona and understand the exact person you want to reach. That will save you a lot of time when going through HARO leads. When you understand who you're talking to and what you want to be known for you can easily scan the leads to find any relevant requests. There are several leads so understanding what you're looking for will save you time both in reviewing the emails and writing responses.
The goal is to end up on websites where your target audience hangs out. The best way to do that is to submit pitches to relevant topics. Focus on quality over quantity.
Review Leads Daily
To be successful with HARO, you need to review the lead emails daily. All leads have a due date. There is a date and time that the information needs to be submitted by. Sometimes the cutoff is in a few hours, sometimes it's in a month. Either way, your best bet is to pay attention and submit your response as fast as possible.
Use Gmail Filters to Highlight Top Leads
The number of requests in each email can get overwhelming. It's a lot to hunt through. To streamline the process I like to use a couple of filters in Gmail.
First, I create a filter to apply a label to all of my HARO emails. Then, I have those emails skip the inbox and immediately archive within that label. That way, my inbox doesn't get cluttered with HARO messages and I can reserve time to go through all of them at once.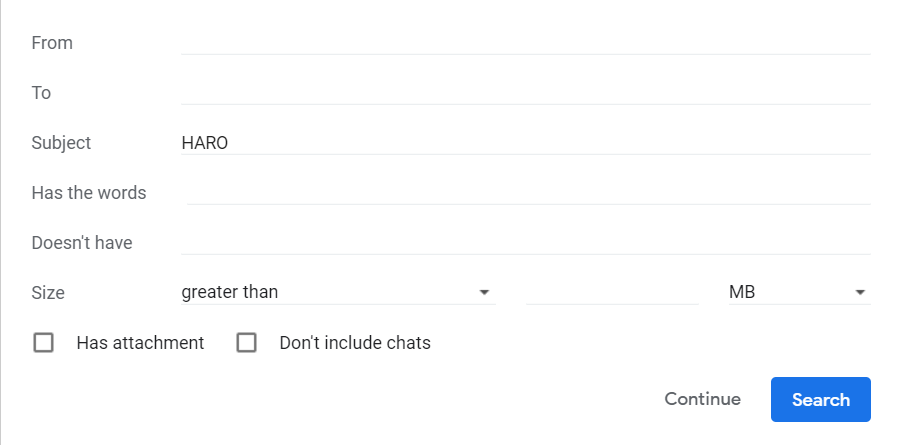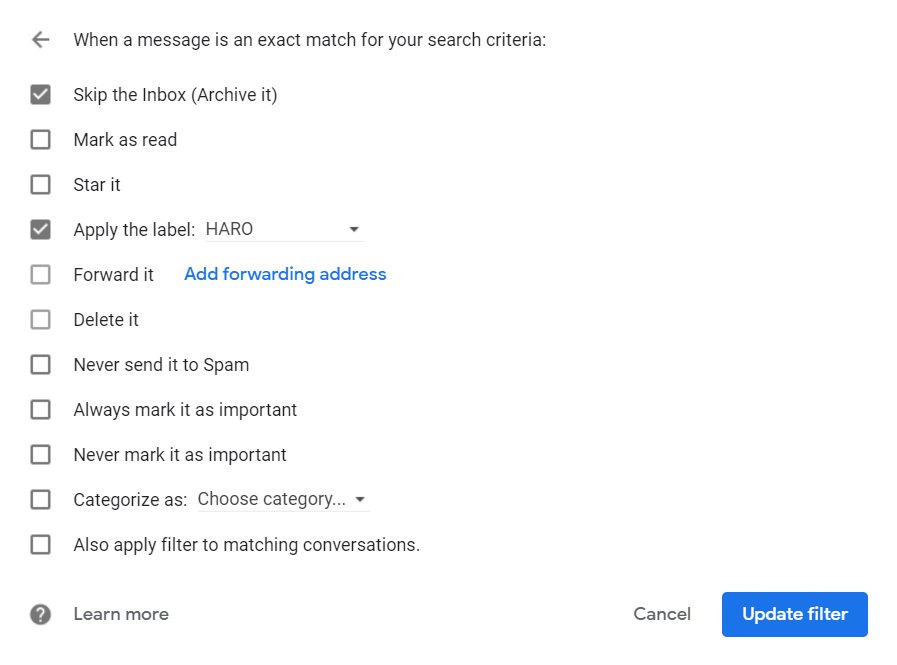 I also have a filter to add a star to the HARO emails that include keywords that I'm interested in.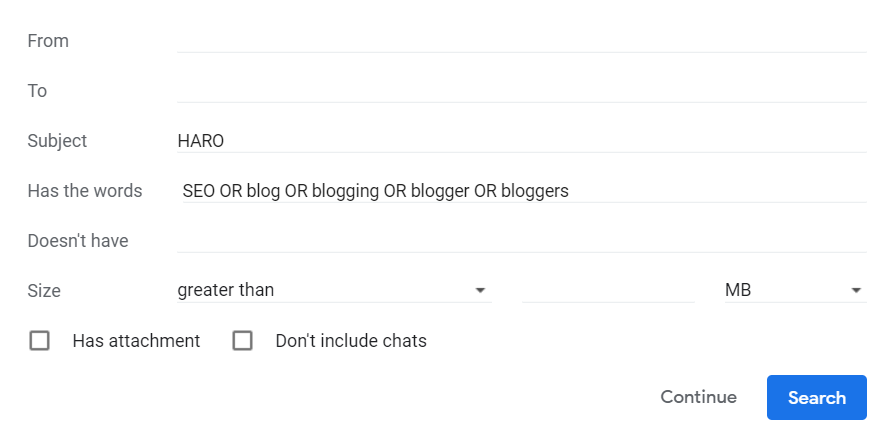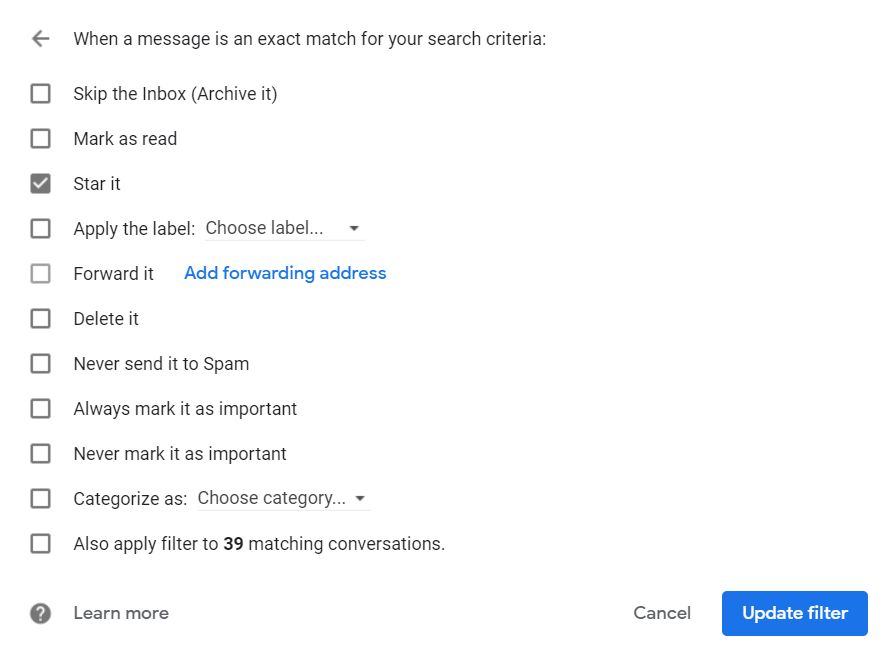 This makes it easy for me to get into a routine to work on HARO responses. I go to my HARO label to see all of my unread leads. Then, I can see the emails that are the most important because they are starred. (Remember the star was applied from my filter when one of my keywords was found within the email.)
I start by reviewing the starred emails and respond to any (not expired) leads that are related to what I want to be known for. Then, I scan through the other emails to make sure there are no other leads I should respond to.
The emails are separated by categories. To save time only read through the categories that are related to your field. So, if you are a travel blogger you can skip the Biotech and Healthcare section and focus on the Travel or maybe even Lifestyle and Fitness section.
Follow Directions and Send Unique Response
When you find a lead you want to respond to, make sure you read the entire prompt. Follow any directions from the author. Spend the time to answer the complete prompt while also remaining concise. And even if the response is similar to another pitch you've sent, don't copy and paste your response. Write a unique response. Don't try sending canned responses. Make sure your response feels like a genuine high-quality response so it can beat out all the other responses.
In Summary
Getting HARO backlinks requires a routine. This needs to be done on an ongoing basis to continue to grow backlinks. For the most SEO benefit, you want steady backlink growth. Not a bunch at once and then no more. Not every HARO response will result in a backlink. In my experience about 15-20% of pitches get published. So, don't stress about the outcome. Instead, get into a habit of checking HARO leads and responding to the best matches. Over time this will build natural backlinks on relevant sites.
---
Do you want to listen to this article? Here's the podcast episode: