Where to Start with Social Networking for Business
---
You know you should have your business on social media networks. You've already heard from everyone else how important social is and how every business has to be on social media these days. You've played around with social media personally, and might have even created an account for your business on one or two platforms. But, what you're missing is a strategy for how social media will positively impact your business. Let's walk through what you need to know about social networking for business.
Choosing the Right Social Networks
Let's back up one step. Which networks specifically should you focus on for your business? Where should you create a profile? Everywhere, right? You never know which one will be the next big thing.
Wrong! If you get excited about new social media platforms, then go ahead, sign up and claim a custom URL for your business. Snag it early on so you have an account when / if you choose to use it.
Focus on only 1-3 social networks
However, what you want to do is choose 1-3 social networks to focus on. If you try to focus on everything, you'll get burned out and end up accomplishing nothing. So, instead, figure out the 1-3 networks you want to focus on, and don't worry about the others.
Re-evaluate Annually
If you're concerned about missing the next big thing, choose a schedule to re-evaluate your networks. There isn't a large audience on new networks, so you don't have to worry about being an early adopter for your business. Looking at the top social networks on an annual basis and choosing which ones you'd like to focus on for the year should be often enough to stay current on popular networks.
Figure out where your audience is
How do you choose the right networks for your business to focus on? You want to figure out where your audience is and go to them. Choose a social network that has your targeted demographic. You can review your social data in Google Analytics. You can also look at social media demographic studies to get an idea of what networks might be a good match.
Choose based on demographics
Facebook is almost always a good choice. There are more people on Facebook than any other social network and they have a broad range of demographics. If you're targeting a younger audience, Instragram and Twitter are both good options. For college graduates and users with a higher income, LinkedIn is a good option. If your demographic is women and your content is visually appealing, you should look into Pinterest.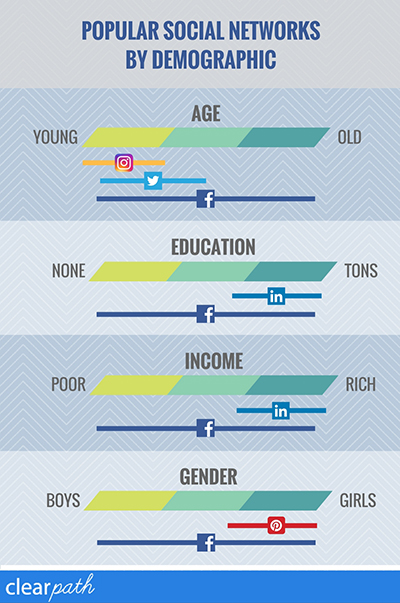 Choose based on your vertical
Sometimes a social network makes more sense for your industry than another. For example, retail typically performs well on Facebook and Instagram. Instagram makes it easy to showcase inventory, and Facebook gives customers an easy option to communicate with your company. If your business is in the B2B space, LinkedIn is a must. For high regulatory industries, such as healthcare and government, it can be difficult to determine which networks make sense. But, Twitter has proven to be a great network for those industries to communicate with the public.
If you're in technology, people expect you to be up on the trends and they expect to find your company on whatever social network they want to look at. Users expect to find technology companies on Facebook, Twitter, LinkedIn, Instagram and even Pinterest. But, don't stretch yourself thin. Earlier I said to choose 1-3 networks, and I meant it. Unless you have a team to support your social efforts, limit yourself to the most effective networks. Decide on the top networks for your business. If you're a B2B company, focus on Facebook, Twitter, and LinkedIn. If you're a B2C company, decide what makes the most sense. You can probably skip LinkedIn and instead focus on Facebook, Twitter, and Instagram.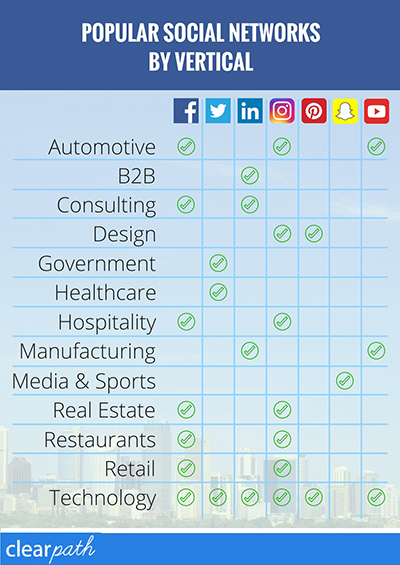 Look at Your Competition
It's always a good idea to keep an eye on your competition, and social media networks are no exception. Take a look at not only what networks your competitors are on, but see which ones actually have a large following. You can use Buzzsumo to get an idea of what networks are working for your competitors and what types of content users want to see on those networks.
Create Your Profile(s)
Once you've decided on the networks you want your business to focus on, create your profiles. Be thorough, fill out everything!
Take advantage of every profile field. Add images and information about your business. This will help make it easier for people to find you. Not only people who know your business, but people who don't know you but need the solution you offer.
Take the time to add cover photos and profile images in optimal dimensions for the social network. Good images make a big difference and are becoming a more important aspect of every single network.
Interact with Your Network
Once you get everything set up, use it! Share posts, leave comments, and participate. Don't only talk about your own company. Find a way to education or entertain people. Try and keep self promotional posts around 20% of your social content and spend the rest of the time adding value.