A logo is a very important piece of your business. At a glance, your logo needs to tell the user what your company does in a memorable way. Finding the right designer to come up with a logo to match your branding message can be a challenge. This problem can be resolved with a logo design contest.
Find the Right Designer with a Logo Design Contest
You need to find the right designer who can create the look and feel necessary for your company. The method that I would recommend to find the perfect designer is to crowdsource the project by running a logo design contest. A crowdsourced logo design contest will allow you to get many designers to bid on your project without the hassle of interviewing and getting quotes from each individual.
I'm sure there are several different companies that you can use to crowdsource logo design. However, the one I am most familiar with and the one I will discuss in this article is 99 Designs. Launching a contest is easy. But, to get the most bang for your buck and a logo that will truly portray your branding message, follow these guidelines.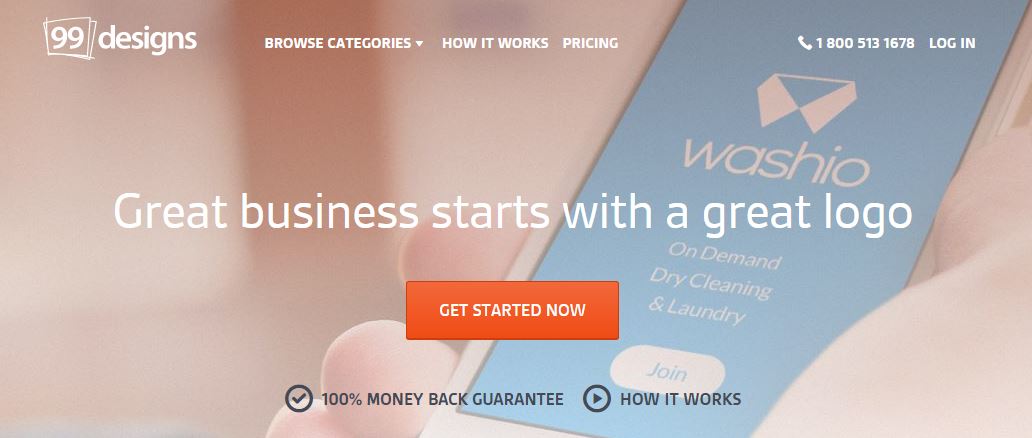 Create a Detailed Scope of Work
With 99 Designs, laying out the scope of work (also known as a design brief) is super simple! They walk you through all of the common questions such as what logo type and style you'd like for your brand. You can choose a few different style types including a monogram, an abstract icon, and a character to name a few. You'll also be able to specify if there are any particular colors that should be included. The 99 Designs design brief even includes a short list of the emotions associated with each color. Lastly, you'll choose what message the logo should portray (feminine, luxurious, playful, etc.). Simply going through the 99 Designs design brief step by step is a great way to ensure you are providing all pertinent details.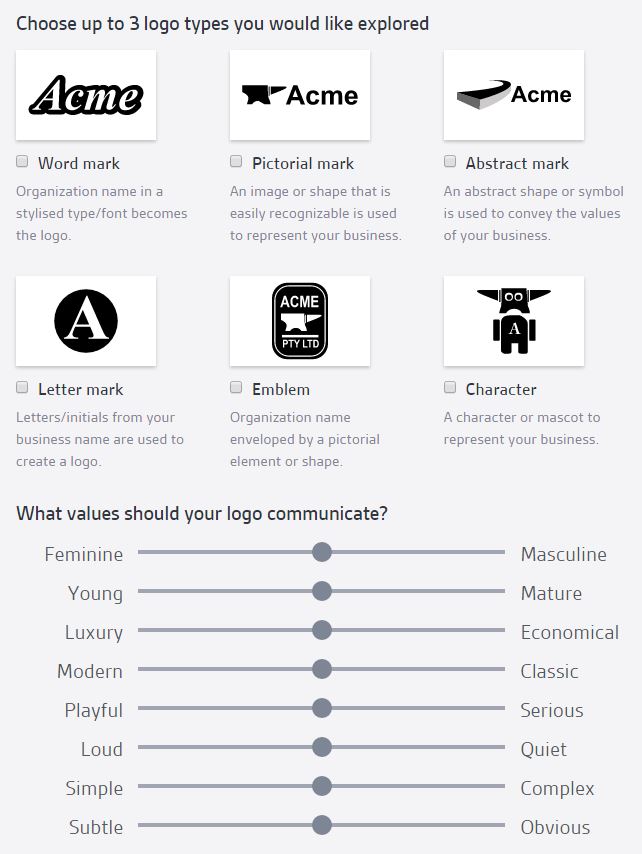 If there is anything in particular you'd like incorporated into your logo be sure to mention it in the design brief. If your design brief is fairly long look into breaking it into bullets. That way, there is less of a chance of the designers missing key bits of information. If you aren't 100% sure what you're looking for, just add a note explaining that these are just ideas and you're open to seeing other variations. Feel free to upload any images that may be helpful (patterns you like, color schemes, etc.).
Actively Invite Designers
I have learned that one of the key pieces to having a successful logo design contest is to invite the designers you like. Look through the completed contests, when you see a logo you like, you can click on it to view the contest.
You can easily look through completed contests by hovering over the logos on the page. When you hover over logos you'll be able to view a few of the final designs.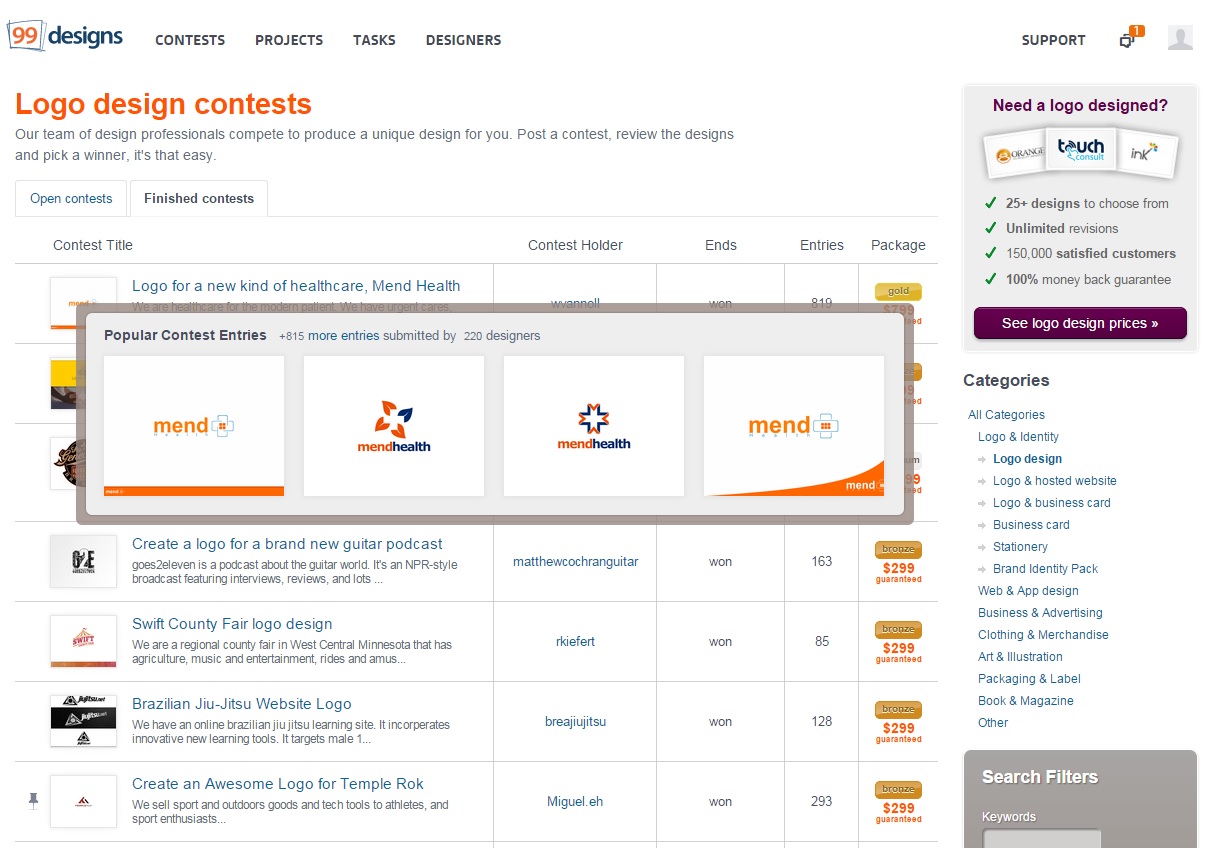 Once you click on the completed contest, you can view the designer name and click to view their portfolio.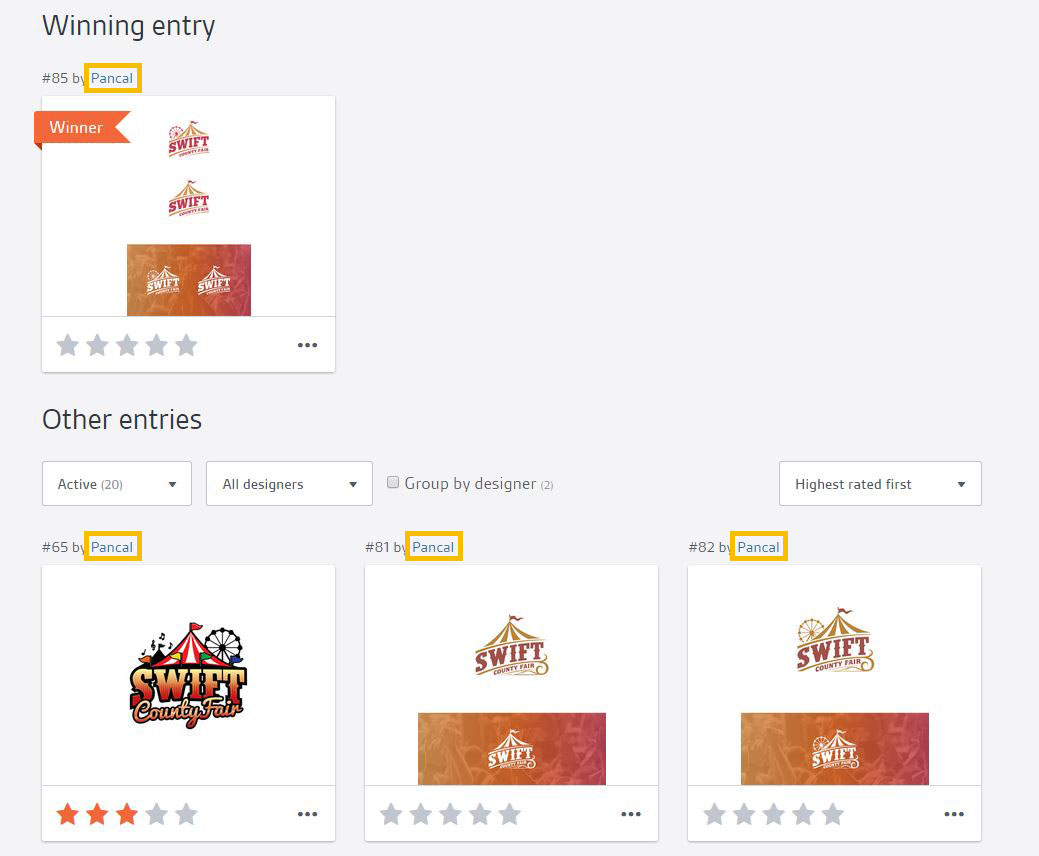 If after viewing the portfolio you still like the overall look and feel of their designs, send the designer a message and invite them to the contest.

Here is an example of the message I typically send:
Hi,

I really like the look and feel of the logos you have in your portfolio! If you have time, please take a look at my contest to see if it is of interest to you.

Thanks!
I strongly recommend inviting as many designers as you have time to invite. 99 Designs allows you to invite a maximum of 50 designers every 24 hours. If you aren't at the max, and you continue to find designers with portfolios you like, invite them. Only invite designers if you actually like the logos in their portfolio. There is no sense in wasting their time if it doesn't seem like a good match.
Leave Feedback
Remember to leave feedback! It's important to talk to the designers and let them know what you like and what you don't like. The more you communicate what your thoughts are on the designs, the more likely you are to receive a design you are happy with.
Reserve 4 and 5 Star Ratings for the Final Round
Rate and eliminate designs as you desire in addition to commenting. Reserve four and five star ratings until the end of the contest when you're in the final round. (The final round begins after a few days into the contest. You choose a handful of designers as finalists and no new designers can participate after that point.) If you rate designs with four and five stars early on, it will discourage new designers from participating because it appears you are already close to awarding a winner.
Expect to spend a decent amount of time managing your logo design contest. I typically spend about 10-15 hours between inviting designers and providing feedback. Make sure you wait to start the contest when you know you'll have the time to dedicate.