Do you know who your search engine competitors are? When you try to find SEO competitors you may discover they aren't who you expect.
SEO competitors are competing for search traffic by targeting the same keywords. This means they're going after the same audience. But, they may not have the same product.
Most likely, you'll find that your SEO competitors are different than the companies you normally consider to be your competitors. Let's go through a system you can use to determine exactly who your SEO competitors are.
We'll use a process to find your SEO competitors without using any paid tools. If you already have a paid competitor analysis tool, great! You should use it. But, if you don't have the budget for a paid tool yet that doesn't mean you're out of luck.
While using this process, track your competitor research on a spreadsheet.
Download a free Google Sheets template below.
How can you find your SEO competitors?
The best place to find your SEO competitors is on Google.
Perform a search on Google with one of your targeted keywords. (I'd recommend using your browser in incognito mode so the results aren't personalized.)
The websites that rank on the first page of Google for the keyword you want to target are your SEO competitors. This method will allow you to identify both your paid and organic competitors.
Here are the steps to identify your SEO competitors using Google:
Go to Google.com and perform a search with one of your targeted keywords.
Review the results on the first page.
Track the organic competitors on a spreadsheet. The organic listings are the standard (non-paid) blue links. List all of the organic websites found on page 1.

Optional: If you want to track paid competitors as well, start a new tab on your spreadsheet. List all websites that appear on page 1 of Google with an ad.

Repeat the process with another one of your targeted keywords.
Analyze Your SEO Competitors
Once you know who your competitors are, you should analyze a few key metrics to get a better understanding of how you can compete.
If you have a paid tool such as SEMrush or Ahrefs, use it to analyze the competitors. Since we're focusing on free methods, we won't go into the details to use those tools. But, it's great to utilize all of the resources you have available.
You can use Ubersuggest to get a ton of competitor metrics at no cost. Go to Ubersuggest and one by one, enter the URLs on your SEO competitors spreadsheet.
For each competitor, track their domain score, number of backlinks, number or organic keywords, and organic monthly traffic. All of this data can be found in Ubersuggest.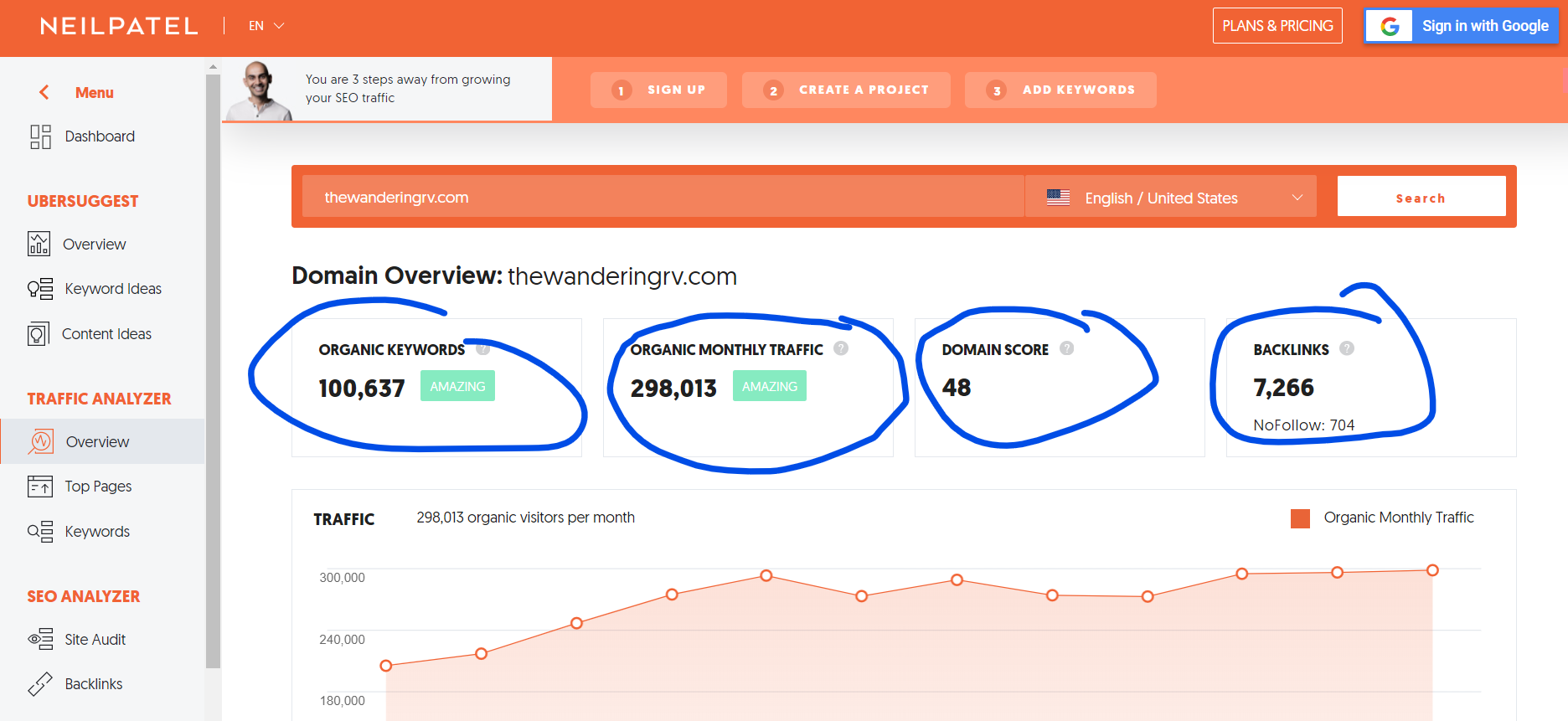 Remember to get the same metrics for your domain as well. That way you can compare and identify what areas need improvement.
In addition to Ubersuggest, you can get competitor metrics using the free version of the MozBar.
Some metrics you may want to consider including in your spreadsheet from the MozBar are:
Page Load Time (Found under Page Analysis > General Attributes)
Domain Authority (Found under Page Analysis > Link Metrics)
External Followed Links (Found under Page Analysis > Link Metrics)
Linking Root Domains (Found under Page Analysis > Link Metrics)
Total Links (Found under Page Analysis > Link Metrics)

Once you have the metrics for your domain and your competitor domains, see how you compare. Is there an area where you are better or worse than your top competitors? Do you see where you can improve?
Analyze Competitor Keywords
Once you understand who your competitors are, you can dig deeper to gain more insights. One area where you can learn from competitors is keyword ideas. You can analyze competitor keywords to help trigger ideas for your own website.
Using Ubersuggest you can review the keywords your competitors receive traffic from. Go to Keywords under Traffic Analyzer. Scroll down and click Export to CSV. You'll have to log in to export the keywords, but the account is free.
Create a new tab in your spreadsheet to track the keyword data you export. (If you're using the template, there's already a tab prepared for Keyword Data.)
To import the keyword data into Google Sheets:
Navigate to the tab you are using to collect the keyword data.
Go to File > Import.
Click Upload and then select or drag the file into the window.
Under Import location choose Append to current sheet. Leave the other settings at default and click Import data.
If this is not the first time you've done an import to this tab, scroll down to the new header and delete the row. (Keep the header from the first import at the top, any others are unnecessary.)
You'll want to export the keyword data for each competitor and add it to your keyword data tab. As long as you choose the setting to append the data it will add it to the bottom of the list.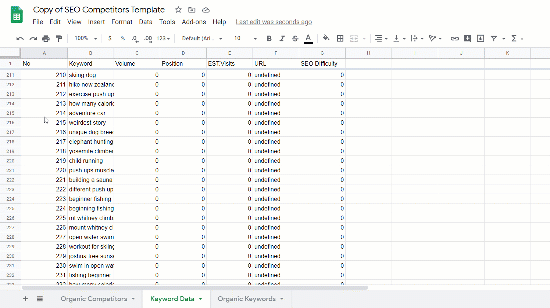 Once you have the data, you can analyze it with a pivot table.
Use a pivot table to easily make sense of the data. Set the keyword as your rows. Set the count of keywords as your primary value and use it to sort your table in a descending order.
The pivot table is already configured in the 'Organic Keywords' tab of the Google Sheets template.
Download the template below.
The pivot table allows you to easily identify the keywords that multiple competitors are leveraging to drive organic traffic.
Add more values and adjust your sort to get more keyword ideas.
Here are the values that can help you make informed decisions:
Count of Keyword (number of competitors that receive traffic from that keyword)
Sum of Estimated Visits (total combined traffic competitors receive from that keyword)
Max of Volume (the average monthly search volume that keyword receives)
Max of SEO Difficulty (how competitive the keyword is)
Review Platforms Competitors Leverage
In addition to your competitor analysis spreadsheet, take a look at your competitors to see which platforms they leverage that you may be able to take advantage of.
Local
Do they have a Google My Business listing? If you perform a search in Google do they have a local listing.
Social
What social platforms are they on? Check Facebook, Twitter, LinkedIn, Instagram, and Pinterest. How active are they on these platforms? Do they just have a profile or do they actively post and engage with an audience. How large is their audience?
Video
Do they have a YouTube channel? How many subscribers do they have? How often do they post a video?
Podcast
Do they have a podcast? How often do they post a new episode? What topics do they cover?
Find out what your competitors are doing and what's working for them. Then figure out what you're missing. Does your competitor's strategy make sense for your audience and business goals? If so, come up with a plan to implement it.
How do you like to track your competitors? What competitor metrics do you find most useful when analyzing SEO competitors? Let us know in the comments!
---
Do you want to listen to this article? Here's the podcast episode: