The Bing Webmaster Tools are one of the few tools you want to setup on your website from the beginning. They are packed with insights, data, and tools that you can use to improve your website. And the data begins that day it's setup, so even if you aren't ready for it yet, start collecting the data. Here's how to setup Bing Webmaster Tools.
Are the Bing Webmaster Tools Worth Using?
Before we go over how to setup Bing Webmaster Tools, let's discuss if it's even worth using. The short answer is: yes! First of all, it's free, so why not? Second, for all of the same reasons you setup Google Search Console on your site, you'll want to setup Bing Webmaster Tools as well. These tools provide feedback directly from the search engines! The only thing better than getting feedback on your site straight from a search engine, is getting feedback from two search engines! Just because you get the majority of your organic search traffic from Google, doesn't mean you should ignore Bing.
If that isn't enough to convince you, the Bing Webmaster Tools are packed with features you won't find in the Google Search Console. It has a keyword research tool, allows you to run a site scan to identify SEO issues, and even offers free conversion optimization tools such as heatmaps and session recordings with Microsoft Clarity.
Setting up Bing Webmaster Tools
Before you start, make sure you setup Google Analytics and then setup Google Search Console. These installs build on each other. Google Search Console is easiest to setup when Google Analytics has already been configured. Similarly, Bing Webmaster Tools is easiest to setup when Google Search Console has already been setup.
So, before you install Bing Webmaster Tools, setup Google Analytics and then Google Search Console. Now you're ready to setup Bing Webmaster Tools.
To get started with Bing Webmaster Tools go to: http://www.bing.com/toolbox/webmaster/.
Click Get Started and sign in.
You can choose to either import your site from the Google Search Console, or add it manually. Click import under the Google Search Console option.
Follow the prompts to continue and log into your Google account.
On the Import from Google Search Console screen select the domain(s) you want to import.
Click Import and then you'll be redirected to your new dashboard.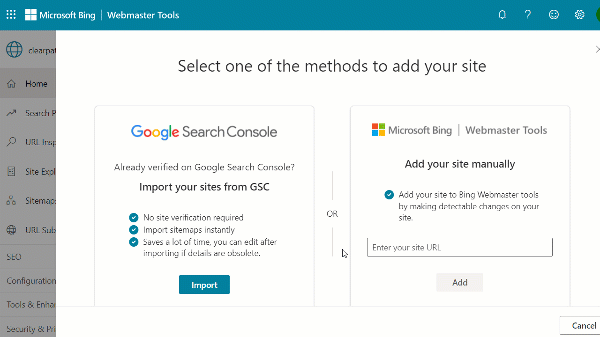 That's all there is to it! Now your site is verified with Bing Webmaster Tools and you can start getting valuable insights to optimize your website.
---
Do you want to listen to this article? Here's the podcast episode: