Google provides a free tool for website owners to see potential issues and gain insights not available in Google Analytics. It's called the Google Search Console. We're going to walk through how to setup Google Search Console on your website.
Why Should You Use Google Search Console?
Before we discuss how to setup Google Search Console, let's discuss why you should. Or maybe the real question is: why wouldn't you use Google Search Console? The Google Search Console contains data and utilities meant to increase your website traffic and visibility on Google. This information is coming directly from Google. That same search engine that you are working hard to rank on. So, why wouldn't you listen to the personalized advice they are offering your website?
The Search Console is what Google uses to communicate issues and errors to website owners and administrators. This is the tool Google uses to contact you and give you free advice, just take some time to listen and maybe you'll see some search improvements.
What's the Difference Between Google Search Console and Google Webmaster Tools?
Google Search Console was previously named Google Webmaster Tools. You may still see references to the old name around the internet, they are really interchangeable. Google Search Console and Google Webmaster Tools are the same thing, but Google Search Console is the new and current name.
Setting up Google Search Console
Setting up Google Search Console for your website is pretty straightforward. Before you start, make sure you've already setup Google Analytics. That makes the process super simple. Then, follow these steps:
Click Start Now and login to your Google account. (Make sure it's the same Google account you used for your website's Google Analytics account.)
Under URL Prefix enter in your website URL and click Continue.

You can enter the URL under Domain instead. This is preferred because it allows you to set it up once and see all variations of the domain (https, www, etc.) but it requires DNS verification. The other method allows you to verify with several different methods including Google Analytics. If adding a DNS record isn't a problem for you then go that route. If you want the easiest possible set up though then just stick with URL Prefix. You'll have to set it up multiple times to see data from every variation of the URL but setup is super simple and is finished in seconds.

You'll need to verify your website. If you have Google Analytics setup, and you chose URL Prefix, then using Google Analytics to verify is the easiest option. Otherwise, you can choose HTML file upload or HTML tag and follow the prompts to verify within minutes.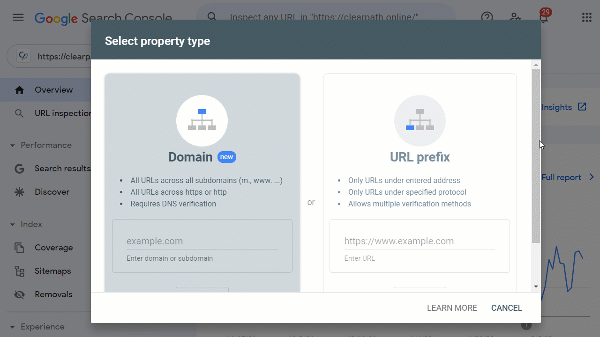 Unless you choose the Domain configuration instead of URL Prefix, you'll want to repeat this process for both the www and non-www versions of your website. If you use https, then those versions should also be added for both https and http. Which means there would be a total of four site variations added to Google Search Console. Google sees all of these versions as separate sites and adding them all to Google Search Console will give you full visibility. Seeing data for all of them will allow you to verify everything is configured properly.
When you add a new web property, Google will send you a message outlining some steps you can take to improve the search presence of your website. Go through those steps and implement the ones that make sense for your web property. They include items such as adding all website variations and adding a sitemap.
Check Your Google Search Console Monthly
Setting up the Google Search Console is only the first step. It won't do you much good if you never look at it. Try to login monthly to confirm there are no issues.
A few common tasks to check include:
your sitemap is still successfully submitted
your site is still being indexed
there are no manual penalties or security issues
When you first start the account you may find several issues and recommended improvements. Invest the time to get those cleaned up. Once you get the initial issues taken care the monthly checks won't take long.
If you need help staying on top of the different tasks you need to perform within the Google Search Console you can leverage the ClearPath Online DIY SEO Tool. It's prepopulated with prioritized digital marketing tasks, including everything you need to monitor within the Google Search Console. And it's already set up to stagger them out so you have a short list each day based on your personal digital marketing needs.
---
Do you want to listen to this article? Here's the podcast episode: