Creating content takes time. That's why you want to make sure you're writing content that people want to consume. To do that, you need a keyword research system. We are going to walk through a simple process to find the keywords worth writing about.
Create a Spreadsheet to Track Your Keywords
Use a spreadsheet to track your various keyword ideas.
To track your keywords, you can download the free Google Sheets template below.
To start, you'll want a column that you can use to document all of your keyword ideas. Create a column with the heading of Topic / Keyword. We'll add more columns later in the process. Right now, just focus on generating ideas.
Brainstorm Content Ideas
Think about your business and your target audience. Start listing any ideas that come to mind in the first column. Don't worry about details at this point. We'll refine the list later, just add some topics as a place to start.
Use Tools to Refine and Grow Your Keyword List
Next, look at some data. There are a number of tools that you can use to help grow your keyword list. We're going to go over some of the non-paid tools you can leverage. If you already pay for a keyword tool, that's great, and you should certainly use that data. But, we won't be discussing any specific paid tools here.
Google Trends
Find out what's trending. Go to Google Trends and enter in one of the topics you jotted down. Now, you can enter in a similar topic to see which one is more popular, or scroll to the bottom to find related topics and related search queries. Reviewing the related terms can provide new ideas to add to the list. Comparing similar terms can allow you to fine-tune your list.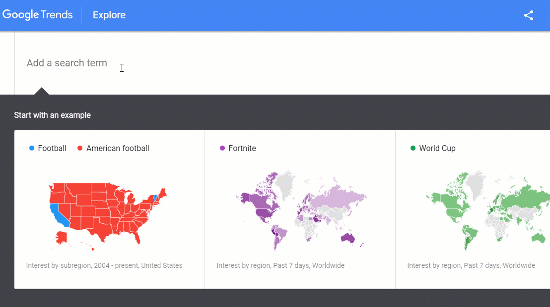 Google Suggest
Next, go to Google. When you start typing in keyword ideas there will be a dropdown that tries to predict your desired query. Take a look at the suggestions and add any relevant ideas to your list.
YouTube Suggest
Similar to Google Suggest, you can use the YouTube auto suggestion feature to generate more ideas. Go to YouTube and start typing in your keyword. A dropdown will appear with suggestions, just like Google. Use those suggestions to add more ideas to your list.
Google Related Searches
Go back to Google to get a few more keyword ideas. Perform a search with one of your keyword or topic ideas. Scroll to the bottom of the results page and you'll see some related searches. Take a look at the related search terms and add any relevant ideas to your spreadsheet.
UberSuggest
Go to UberSuggest and click on Keyword Ideas to start to refine your list. This is a good spot to enter in some of your vague topic or keyword ideas and replace them with popular search terms.
UberSuggest will show you keyword suggestions, related terms, questions, prepositions, and comparisons. This data can provide new ideas as well as assist with refining existing terms.
AnswerThePublic
Another useful tool to find specific topics is AnswerThePublic. This tool expands on a keyword and groups it out in several different variations including questions, prepositions, and comparisons. The result returns a visual chart that makes the data easy and fun to look at.
This is an amazing resource to be able to drill down on some of your topics and find content ideas that are more targeted than your initial thought.
Ubersuggest also allows you to view questions, prepositions, and comparisons now but these two tools don't always provide the same data. It's good to look at as much data as you can get your hands on.
Answer Socrates
And the last tool to expand and refine your keyword list is Answer Socrates. You enter in a topic and then this tool helps you discover the common questions people are asking about this topic on Google.
Use Your Own Data
Review the queries in your Google Search Console Performance report. Sort the data by highest Impressions.
This will give you an idea of the queries your website already ranks well for. These are the topics Google already sees you as an authority on.
Review these terms to find if there are any phrases that don't already match content on your website. You likely already have content for the majority of these phrases. But, you may be able to find a topic where you have a gap or be able to expand on the topic.
Add Data to Your Keyword Ideas
Now you have an extensive list of keyword ideas. Next, we need to add some data so you know which terms and topics are worth your time. Let's start adding more columns to this spreadsheet.
Category
Group your topics into categories. If some topics or keywords are too similar, you'll most likely want to target them on the same page (or only use one). Creating categories makes it easy to determine where you have overlap.
It's also nice to have categories clearly defined so you can choose to launch an entire topic at once. You can publish multiple articles in the same category and add internal links so users can jump back and forth where appropriate.
Option
For each keyword, identify if there is an opportunity to rank for a particular type of content. Perform a Google search for your keyword. Make a note whenever the top of the search results displays images, videos, products, or local listings. If they do, you can leverage this information by making sure to include that type of content on your page.
Business Value
Go through each topic and determine what the business value is for you. I would recommend doing this by assigning numbers to your funnel stages. If a topic is at the top of the funnel and the reader of that topic would have a very low chance of converting, than assign it a number such as 1. If the topic is extremely relevant and would likely attract someone in the buying stage, assign it a higher number such as 4. I'd recommend keeping a key with the exact criteria you use to assign the various number ranks so your data could be as objective as possible.
Search Volume & Difficulty
It's nice to get a rough idea of the average monthly search volume to include on your spreadsheet. This data is easy to get with UberSuggest.
If you have a different tool you prefer this data, that's not a problem. Just use the same tool to capture the metric for all keywords so you are comparing apples to apples. Even if the numbers aren't exactly trustworthy, it's still a great comparison metric to determine which of your topics are more popular than your other topics.
To use UberSuggest, simply enter in your keyword. Then, record the Search Volume and SEO Difficulty metrics found on the Overview tab. These metrics give you an idea of how popular each topic is and how competitive it is to rank for the topic.
Once you have all of the data, sort by category and add some conditional formatting to the business value, monthly searches, and competition metrics to make it easy to review and prioritize the ideas. (If you're using the template that has already been configured.)
Plan Your Publish Dates
Now that you have the keywords you want to create content for, commit to a timeline. Assign publish dates for the various topics and get started writing that content!
A content calendar is included with the free Google Sheets keyword research template below.
This system generates a great list of ideas to start with. As you continue to think of new ideas follow this system and add them to your spreadsheet. This process is intended to be repeated on a quarterly basis. That way it remains current and full of fresh ideas.
What is your favorite way to generate a new keyword idea? Please share it with us in the comments!
---
Do you want to listen to this article? Here's the podcast episode: