So, you have a website and you already have Google Analytics setup and tracking your data. That's a great start! But, you want to start tracking more. You want to find out who clicks what on your site and which elements are critical in the conversion process. You'd like to determine which campaigns are performing the best and sending qualified traffic to your site.
You can and certainly should do all of this. To accomplish this, you would use a combination of UTM tags and event tracking. It's important to understand the difference between these tracking methods so you don't override any data erroneously.
The first thing you need to understand is that UTM tags are used to track external links and events are used to track internal links. UTM tags are intended to track acquisitions from your campaigns; whereas, events are meant to track elements within your web property. This becomes apparent when you review your data. In Google Analytics, the data from UTM tags will appear in the Campaigns section which is under Acquisition. While Events appear under Behavior. And in Google Analytics 4 (GA4), UTM tags appear in the Acquisition reports and Events appear under Engagement.
UTM Tags are Used for External Sources
Only use UTM tags on external links. Don't use UTM tags on internal links that go from one page of your website, to another page on the same website. Adding UTM tags to internal links will override the original referrer source and medium. So, if a user got to your website from the source of Google, and then clicked on an internal link with a UTM tag that included a source of YourSite; Google Analytics would override the original referral source of Google, with the new referral source of YourSite.
Does this mean you would never use a UTM tag on your website? No, you can use a UTM tag on a link on your website if it links to a different website. If it goes to a different website then it is an external link. You should know though, that this would not actually provide any Google Analytics data for you, unless you also own the other domain. To capture clicks on the link and collect data on the original website, you could add an event. If the site you're referring to also needs to track this information you can still include the UTM tag. If the link on your website is an external link you can track it by using both a UTM tag and an event. The event will track the click under Behavior on your site, and the UTM tag will track the click under Acquisition on the site you sent the traffic to.
It can get confusing to understand when and if you should add a UTM tag to a link on your own website. To help understand when it's appropriate, refer to the flowchart below.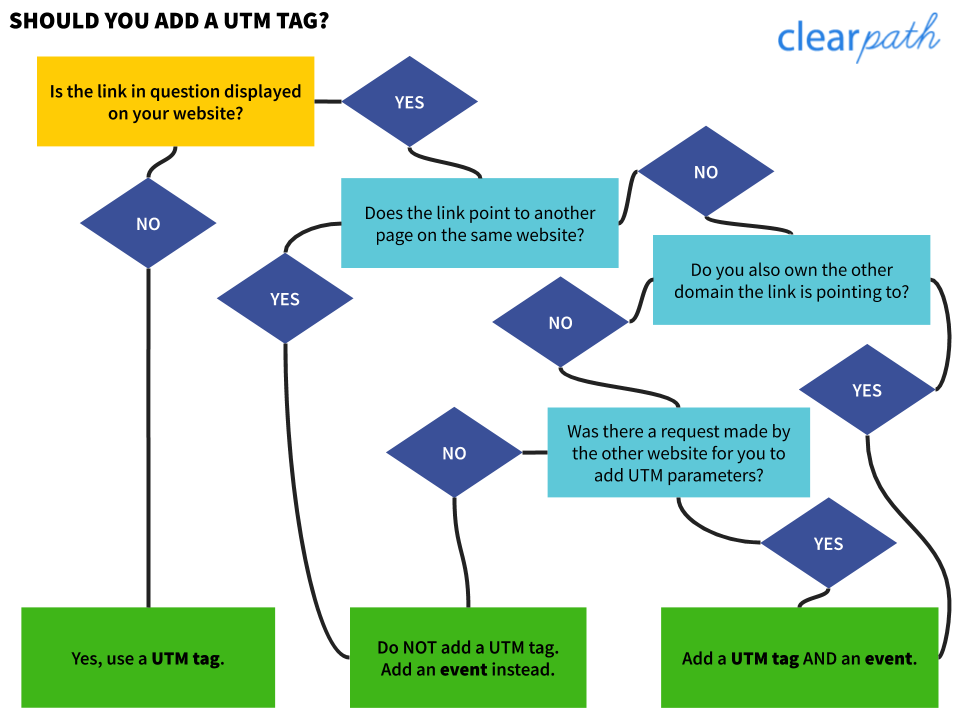 Use UTM Tags to Track Campaign Efforts
UTM tags are a terrific way to track campaign performance. Tracking marketing campaigns across various networks is what UTM tags should be used for. You can add UTM tags to links in e-mail campaigns, social media posts, and paid ads.
When you add a UTM tag, you'll be adding more details to your Google Analytics data. You'll be able to see campaign performance metrics that would not be available otherwise. This will help you determine which marketing efforts are having an impact.
How Do UTM Tags Work?
UTM tags work by appending parameters to your URL to identify the source, medium, and campaign. Google provides a Campaign URL Builder that makes it easy to add UTM tags to your URL. If you want to know which parameters to add and why, and how to keep your data clean and tidy, view our guide on how to create a UTM code.
Events are Used for Internal Tracking
If you want to track internal links on your website or track an interaction someone is taking while they are navigating your website, that is when you want to leverage events in Google Analytics.
You can add an event to links or buttons. So, you can capture external site referrals, form submissions, downloads, video plays, and just about any other interaction on your website. And, when you add an event interaction it's easy to associate an event with a goal in Google Analytics.
This allows us to stay on top of the interactions that play a key role on our website. If you have a podcast, you can add an event to the podcast play button on embedded players on your website. Then, you can add podcast plays as a goal for your website. If you have a YouTube channel, you can add an event to the video play button on embedded YouTube videos. Then, you can add a goal for video plays. If you are an affiliate marketer, you can track your outbound referral clicks with an event and set up referral clicks as a goal.
What this does is allow us to get more visibility into our website visitors and leverage our Google Analytics data to it's full potential. This makes it easier to make informed decisions so we know what to improve and what efforts we should prioritize.
How Do Events Work?
There are a few different ways you can add events to elements on your website. You can add them using Google Tag Manager. You can also add them manually. If you would like step-by-step directions on how to add events you can view our complete guide on how to track events in Google Analytics.
Does this Apply to GA4
Yes, even though events play a larger role in Google Analytics 4 than in Universal Analytics, the difference between UTM tags and events still functions the same. UTM tags still provide data in GA4 and all of the rules we discussed in this article apply both to GA4 and Universal Analytics.
UTM Tags vs Events
So, in conclusion, UTM tags should be used to track campaign performance from sources outside of your website, and events should be used to better understand interactions on your website. UTM tags help to better track acquisition sources, whereas events help to better track user behavior.
How do you use UTM tags and event tracking? Feel free to share any of the tips or tricks you've learned to get the most value out of these items.
---
Do you want to listen to this article? Here's the podcast episode: