Using Google Analytics for social media metrics will help you understand where you should focus your social efforts. It will help you understand which networks convert and what content has the biggest impact.
Posting engaging relevant content on social media can be time consuming. Reviewing social metrics can help you understand the social ROI. This not only can help to persuade a boss that you need to continue, but it also is a nice motivator to encourage you to keep working hard.
Social media can be time consuming. And it's nice to know if you're on the right path before you get too far.
There are a couple of prerequisites you should take care of before you can track social media metrics.
Prerequisites to Track Social Metrics in Google Analytics
Prereq 1: Install Google Analytics
Before you can track and review social media data in Google Analytics, you need to configure your website to use Google Analytics. You can follow my guide to setup Google Analytics.
Prereq 2: Setup Goals
It will be hard to understand if your social efforts are having a positive impact if you don't have any goals. Make sure that you understand what your goals are for your website. Then, configure your goals in Google Analytics.
Do you need to add UTM tags?
When you post links to your website on social media, do you need to include UTM tags to be able to track the data in Google Analytics?
No, when you a user clicks on a link from a social network it will show in your Google Analytics data as a referral. The medium will be Referral. You can identify the network by viewing the Source. The source will display as the URL (for example, twitter.com or facebook.com).
But, if you use a shortlink such as bitly, then you want to add UTM tags. If you use a URL shortener, then in Google Analytics that visit will show as direct traffic. You won't be able to identify which social network or acquisition source generated the visit.
You also want to include UTM tags for paid campaigns. This will help you dig deeper into the performance for each campaign. It also gives you a more complete picture of the total impact social plays for your website.
Any time you add UTM tags to a social network make sure to use the term social for the medium tag. This will group the data in the social report along with the organic social traffic.
Speaking of reports, let's discuss where you can view social data in Google Analytics.
Social Media Reports in Google Analytics
There is a slew of social media reports under Acquisition > Social. We'll walk through these various reports and the primary benefits of each.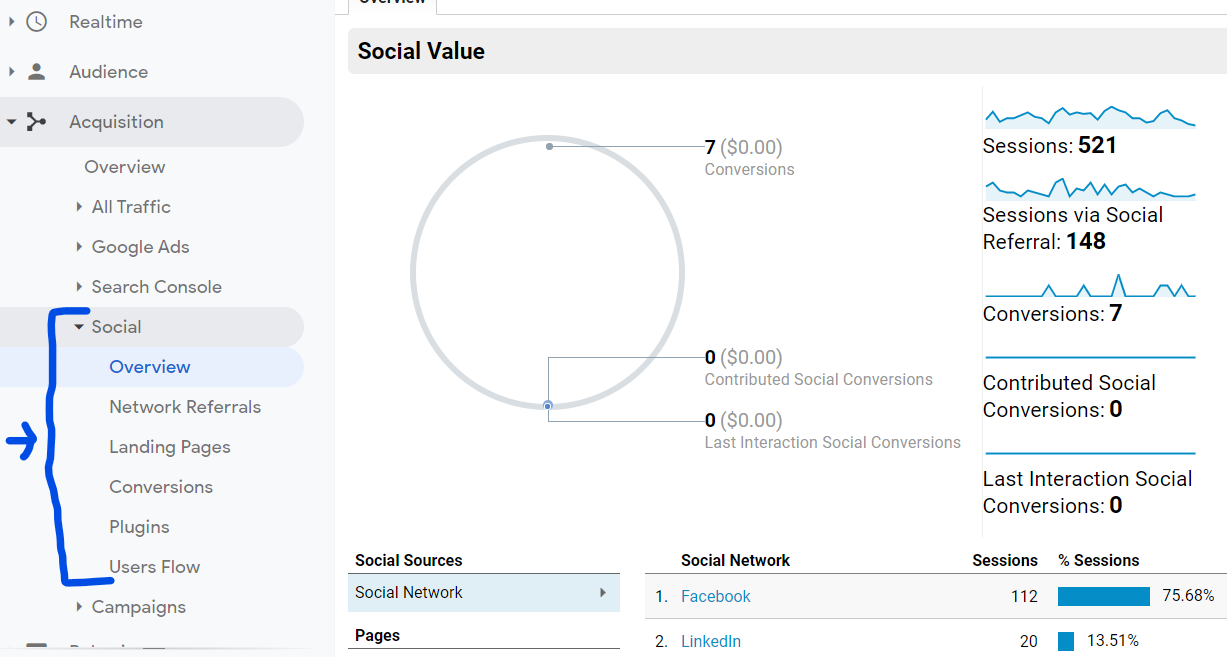 The Overview report gives you an at-a-glance recap of how social efforts contribute to the overall performance of the website.
The Network Referrals report shows you which social networks are the most popular sources your audience uses to access your website. It's a nice report because it combines the traffic by source, regardless of the medium. So, organic Facebook traffic can be combined with paid Facebook traffic.
The Landing Pages report let's you determine what content works best for social. Your top social landing pages may not be the same as your top Google organic search pages. Figure out what's popular, and create similar content for future social campaigns.
The Conversions reports let's you figure out what social efforts are having an impact on your goals. Often, social will play a role earlier in the sales cycle. When that happens it isn't always counted as a conversion source because it wasn't the last source that led to the conversion. Click on Assisted vs. Last Interaction Analysis to get a better picture of the role social played in the conversion funnel.

The Plugins report shows you which social widgets on your website are utilized the most. This data is not automatically collected. You need to add events to your social plugins to track this. Google has a guide to configure social interactions.
The Users Flow report gives you a visual graph that illustrates where users went on your website when they came from various social networks. This gives you a nice idea of what type of content works best for which network.
Isolate Social Traffic Using Advanced Segments
If those social reports don't give you the data you want don't worry, you can use any report in Google Analytics. You can create an advanced segment that targets social visitors and apply that segment to any of the other reports.
To create an advanced segment:
Click on Add Segment at the top.
Click the red New Segment button.
Under Advanced click on Conditions.
In the dimensions drop-down select Source. Then enter in the social network URLs into the type-in field.
You can click OR to add additional network URLs.
When you've entered the sources you want to include, add a name in the top left and click the blue Save button.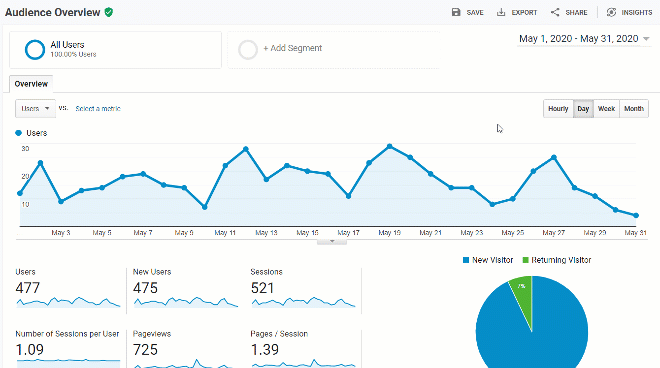 You can create multiple advanced segments and compare the data. So, you can create one for each social network you want to monitor. Or, you can create one and compare it to the default All Users segment.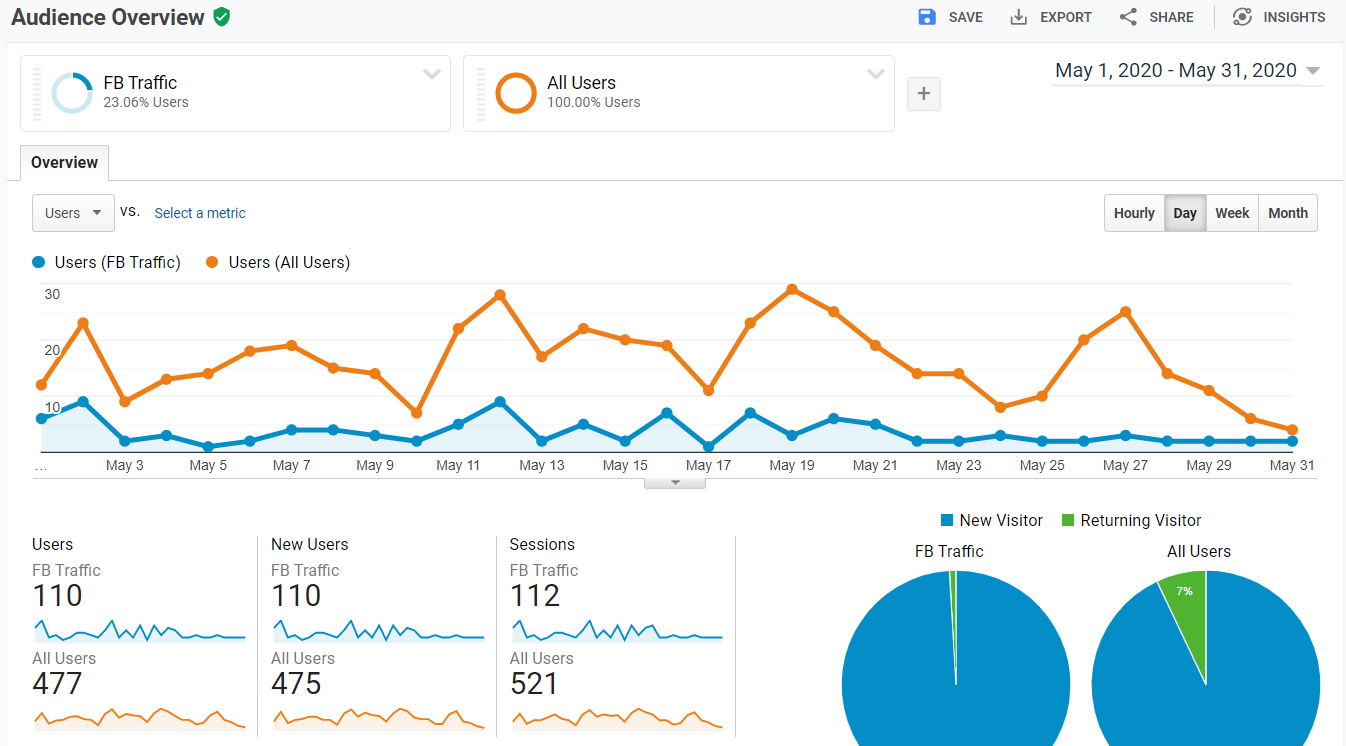 Create a Social Dashboard
Once you know what social metrics you want to monitor, set up a social dashboard to make it easy to track the data.
Go to Customization > Dashboards > Create. Follow the prompts to create a new blank canvas and add the reports you want to monitor.
If you want to monitor data from Google Analytics as well as an outside source, create a dashboard in Google Data Studio instead.
Google Analytics dashboards are simple and easy to set up. They will typically get the job done. But, Google Data Studio takes it to a new level by making the reports even more beautiful and integrating with many more data sources.
What metrics do you like to monitor on your social media dashboard? Please share in the comments!
---
Do you want to listen to this article? Here's the podcast episode: